Email: info@aprimitiveplace.org

Primitive & Colonial Inspired Homes

Primitive & Colonial Inspired Bathrooms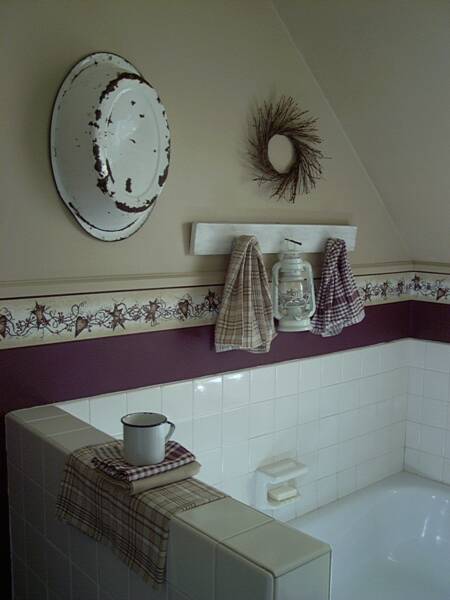 Submitted by Maggie's Farm 2009

Decorating tip:

Scour antique shoppes, thrift stores or garage sales for a primitive looking cabinet. Organize small items in the bathroom with apothecary jars or old canning jars. They are great for holding cotton balls, q-tips, soaps and more. Finish them off with vintage looking labels! Old bottles also look wonderful displayed in a primitive style bathroom.

Photo Right: Peg boards were often found throughout the home to hang necessities such as clothing and towels. You can make your own peg board out of a scrap piece of wood and some square nails. Place near the bathtub to hang towels and other necessities.

Decorating tip: Window treatments should be kept very simple. Adding wooden shutters on your bathroom window are a great way to enhance the early American appeal and also give you more privacy.

Submitted by HomeOnTheHill 2009

This page was last updated: July 9, 2010
Interesting fact:

In the 1500's, baths consisted of a big tub filled with hot water.The man of the house had the privilege of the nice clean water, then all the other sons and men, then the women and finally the children. Last of all the babies. By then the water was so dirty you could actually lose someone in it. Hence the saying, "Don't throw the baby out with the bath water!"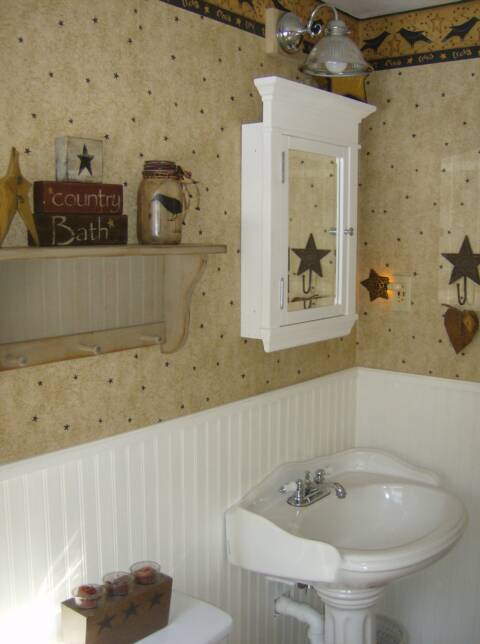 Submitted by prims4me 2009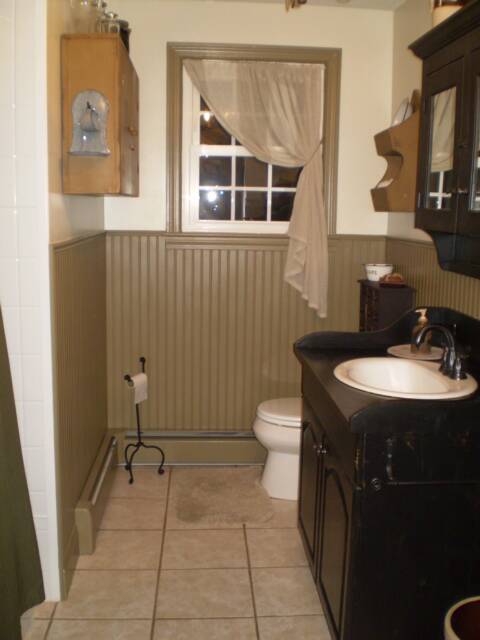 Submitted by primchick 2009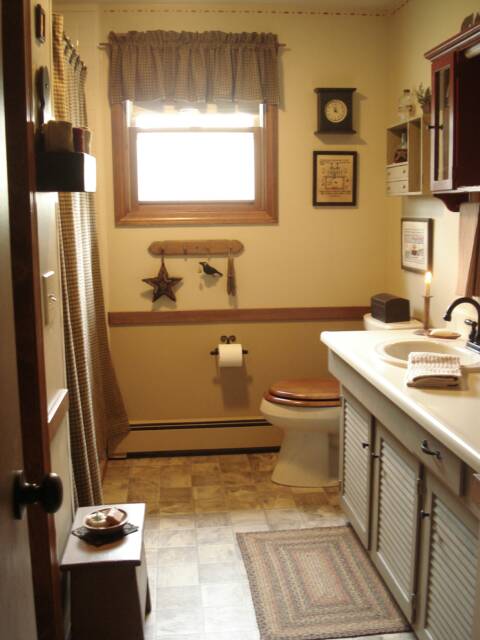 Submitted by Behind My Red Door 2009

Decorating tip: Old boxes and crates add appeal to any primitive style home. Try placing a large basket or crate on the floor for towels or other bath necessities.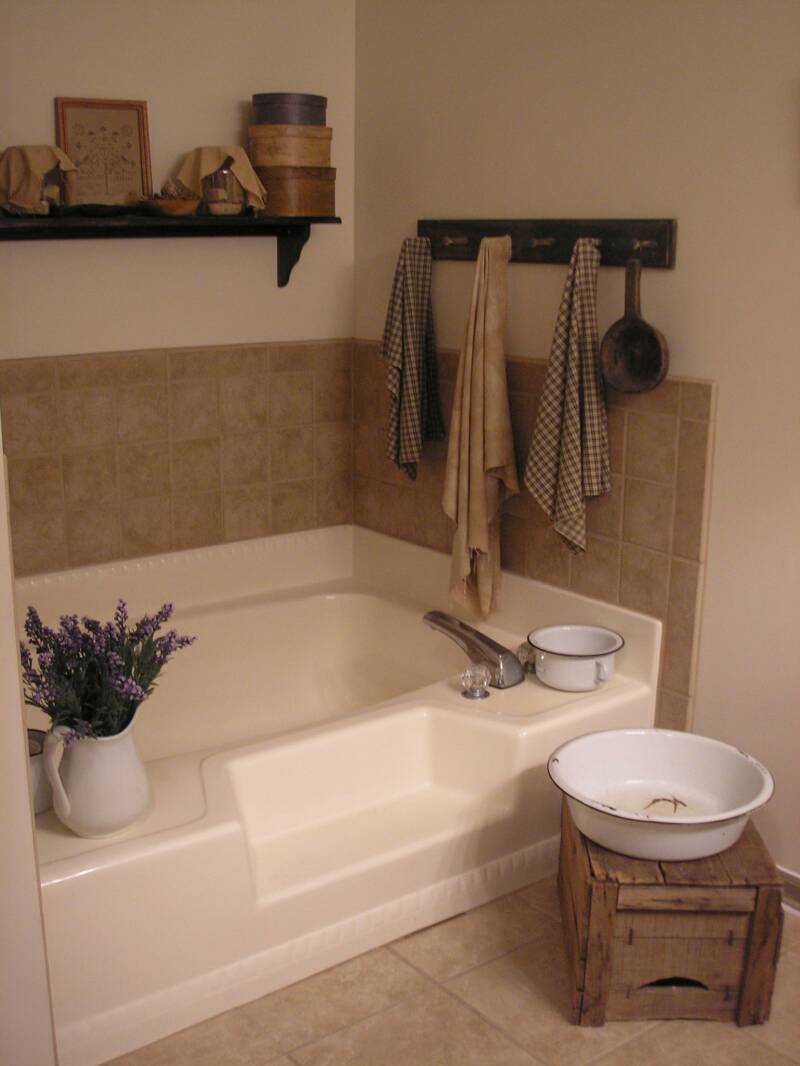 Submitted by Taylors Farmhouse Attic 2009

Submitted by Behind My Red Door 2009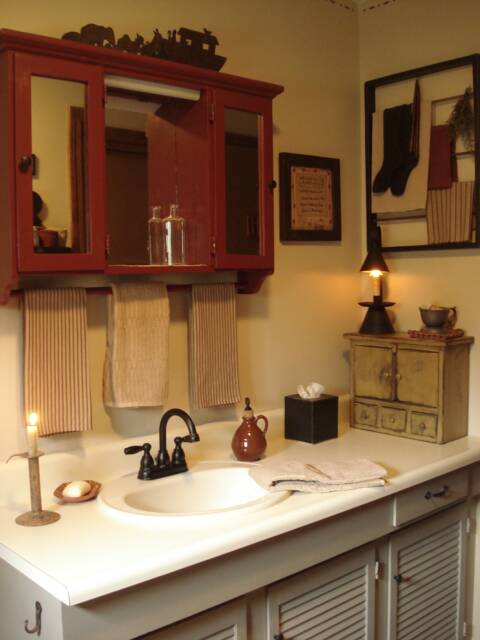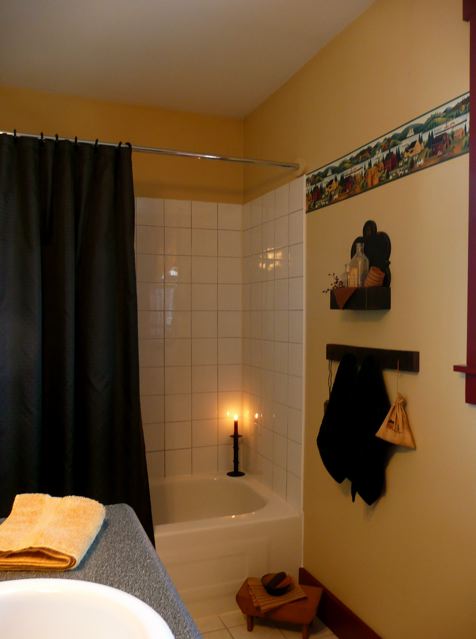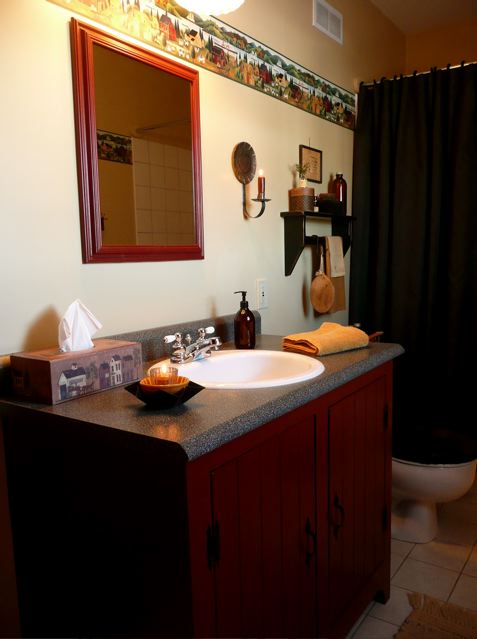 Submitted by HomeOnTheHill 2009

Click on thumbnail to enlarge photo

Decorating tip: Brown glass bottles give a bathroom vintage charm. Kathy found a vintage looking soap dispenser to match!

Click on thumbnail to enlarge photo

Decorating tip:

Bonnie's bathroom is something to crow about! She uses crow accents throughout the room.

A unique idea she has is using a metal decorative garbage can to hold magazines!

Towels are also handy in a nearby wooden stand to match!